Are you ready TO ELEVATE YOUR BRAND AND create aN EXPERIENCE your audience can't resist?
Being a business owner, you wear many hats and you don't have a lot of time to learn a new skill to DIY your logo or pay a big agency company to design something that you don't like because you never got that face-to-face time to communicate with their designer. As a brand designer, I get it, I've been there and gone through numerous times trying to help other entrepreneurs like you brand or rebrand themself. I know that the struggles are real.
You have a passion for what you do, you have to run and manage your business, you don't have time to take on another responsibility. This is where I come in.
I believe in designing brands that tell a story, I love working with clients who have a passion for what they do. Like people, each brand is unique and has its' own personality. I design each brand as if it's my own. When you provide your vision along with my creative process, I believe we can create a beautiful brand that you will love.
Your logo is unique, give it style with alternative setups to make sure that your brand will stand throughout on every platform.
Every brand need a color palette, this add personality to your brand. Do you know your colors values?
Knowing your color values will provide a stress-free experience working with outside vendor so that they can best match your product/design to your brand colors.
Do you know that typography plays a big part in your brand personality?
​
It should convey your brand message and connect with your target audience because the last thing you want is to have a grungy font use for your soft and bubbly brand. That's just an example, but you can see how wrong that can go.
Lastly, if you want to provide an unforgettable brand experience, try to include a creative element like a brand pattern. Having a pattern in your brand can create strong brand recognition leaving your audience with an unforgettable experience.
Each brand is unique and different in its own way. Having a DIY brand means you may not always have all your ducks in a row. If you feel like you've checked all the right boxes under the branding list but you're still not attracting the right audience or booking any client, I'm happy to provide you with a brand audit.
A brand audit will allow me to evaluate your brand in all areas of struggle, identify the problem, and together we will create a business plan that provides you with actionable steps to help you turn those leads into clients.
This includes a Brand Questionnaire, 1hr Brand Analysis Session along with a Q&As session, and a 30 Days Action Plan to help you revamp your current brand and start booking more clients.
*Investment: Range from $300 - $500+
​
*(Price may vary depending on whether you need a full brand audit or specific area of the brand materials)
​
Are you a creative visionary who has big goals, and you're serious about taking your brand to the next level? You're passionate about what you do, but you need help to develop a powerful visual brand identity for success. I can help with that!
This includes a Brand Questionnaire, Strategic Planning, Inspiration Board, Typography recommendation, Color Palette recommendation, custom Logo Design, Style Guide, and Multiple Files Format for your brand's logo (.eps, .pdf, .png, .jpeg).
Timelines: 2-4 Weeks
Investment: Submit an inquiry for a quote.
​
If you are ready to book the Exclusive Visual Brand Identity package or have a unique brand project inquiry, submit your request below and I will get back to you as soon as I can. Please address as many details as possible on what you need.
The Brand Experience package includes Visual Brand Identity and a custom Website design. It is perfect for creative individuals and small business owners who are ready to elevate their business with a confident and cohesive brand to attract their ideal clients and turn those leads into clients.
This includes a Brand Discovery call, Brand Questionnaire, Strategic Planning, Inspiration Board, Typography Recommendation, Color Palette, Brand Identity Design, Style Guide, Social Media Graphics, Multiple Files Format for Logo, a Branded Website, and Brand Collaterals (ex: Media Kit, Welcome Packet, Business Card, Presentation Templates, and Social Media Graphics, etc.)
​
Timelines: 6-10 Weeks
Investment: Submit an inquiry for a quote.
​
If you are ready to invest back into your business, click the button below to submit an inquiry for your custom quote.

Looking for website service only? Send an inquiry for your custom rate.
​
When you can't be present to communicate directly with your audience, your website is the best platform to connect with your audience. Social media platforms are great, but let's be honest, who is going to scroll far enough to read your "about" post or the important one about "your why", with that said, as a business owner, having a website is a MUST. Also, not having a website means you're leaving sales off the table. First impressions matter; let me help you design an on-brand website that reflects your brand personality and turns those audiences into clients.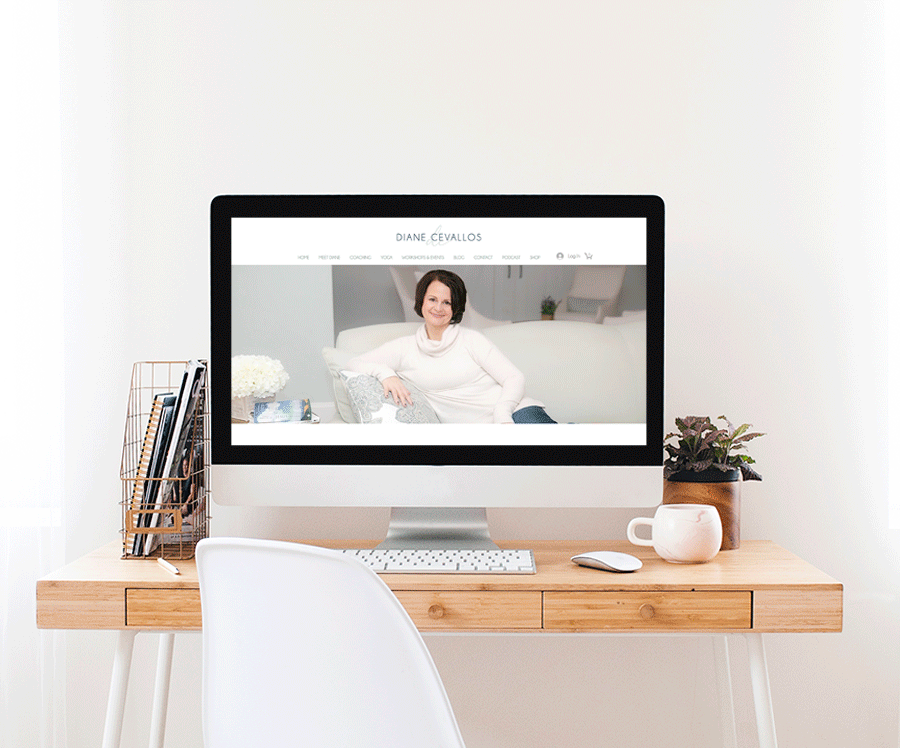 If you have any questions, please check out the FAQ page. If you can't find the answer to your question, please email me directly and I will get back to you within 24hr.
Thank you, Chou, for your creativity and promptness... I had a specific vision but no idea how to implement and Chou listened and made the most professional suggestions. I highly recommend!